Tile Flooring
Commercial Tile Floor Cleaning in Wausau, WI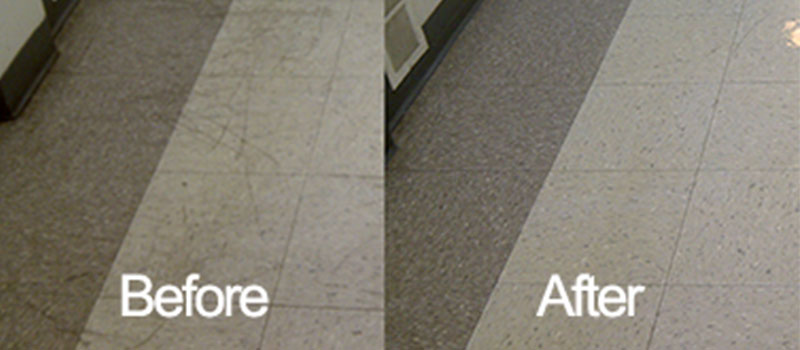 To keep your business, office, or facility looking clean and professional, it's important to have the floors stripped and waxed regularly.
Most flooring that needs to be stripped will be obvious. It will be either yellowing, dull, uncleanable, etc. Stripping is done in a series of steps.
With the proper equipment, chemicals, and know-how. We at Hands-On Cleaning, LLC can help bring back the shine of your VCT, Laminated & Vinyl Floors.
It is usually done on weekends so as not to interrupt your already busy schedule.
VCT is short for vinyl composite tile. This is the type of floor you see in most hospital hallways and other commercial buildings. Some people just call it "tile" floors!
Stripping Tile
Stripping and waxing is a term that refers to removing the existing wax on your floor and applying new wax. Wax is also referred to as "finish," and these two terms are interchangeable. Stripping is a labor-intensive process where low-speed buffers (floor machines that run 175 rpm) are brought in and remove the wax. First, a mop is used to apply stripper, which should be allowed to sit for ten to fifteen minutes. Then, the low-speed buffer is run over the floor with an abrasive pad for stripping. The result is a combination of old wax and stripper that is then vacuumed or mopped up. This process is repeated until all of the wax is removed. Once the floor is stripped, the floors should be rinsed once more to remove any loose remaining wax or particulates and ensure a clean floor to wax.
Waxing
The floor must then be allowed to dry completely before any wax can be applied. Wax is applied in coats. The first coat is applied by a mop and allowed to dry. Then each additional coat is applied. Depending on the specifications and desired shine, the number of coats of wax is determined. If a high, lustrous shine is desired, it will typically require six to eight coats. Four coats of wax will deliver a medium shine. After the above steps are completed, your floor is now stripped and waxed.
Buffing
Buffing or polishing refers to using a high-speed buffer on the VCT floor to bring back a shine and make the wax harder. High-speed buffers run between 1500 rpms and 2000 rpms depending on the manufacturer.
Maintenance
Mopping should be done with cold water and a neutral cleaner. If hot water is used on a waxed VCT floor, it can cause the wax to come up with the mop and give the wax a cloudy appearance. Also, do not use harsh cleaners to mop a VCT floor. Bleach or ammonia-based products will strip wax off of the VCT floor. If you cannot find or run out of a neutral cleaner, just use plain cold water. Then, find a suitable neutral cleaner when you resume maintenance the next day.
Stay Beautiful Program
Sweep and mop your VCT floors daily
High-speed buff your VCT floors at least once a month
Strip and wax your VCT floors at least once a year
Scrub and re-coats may be done interim of stripping and waxing (every 6 months)